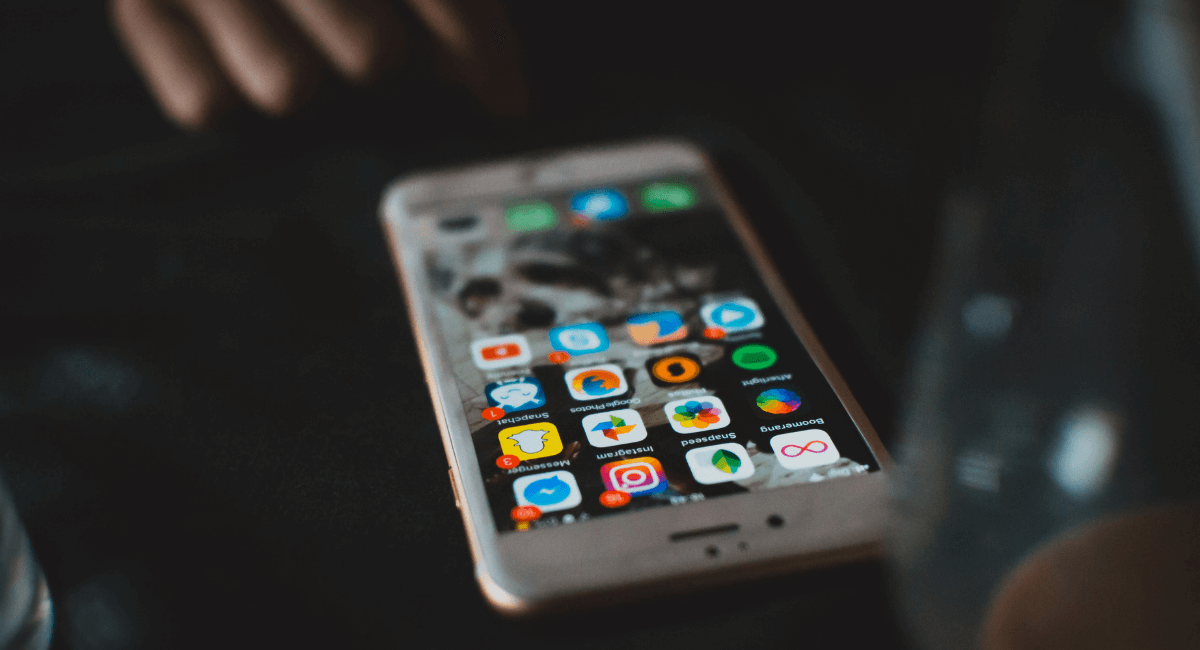 Nowadays, people who can live with their mobile phones out of their reach are rare. In fact, if you ask them what's one thing they'd bring if they were stuck on an island, everyone's response would surely be a mobile phone. Since mobile technology reached the mainstream in the 2010s, mobile devices have become synonymous with convenience. Thanks to mobile apps, we can optimize our phones for all-around use wherever we are.
Mobile app usage statistics revealed that Americans install an average of 20 apps on their phones. Facebook, Instagram, YouTube — you name it. People have all kinds of apps for entertainment, social, educational, and business purposes. We dug out the most interesting stats on the web, so stay tuned if you want to learn more.
Riveting Mobile App Usage Statistics (Editor's Choice)
90% of mobile time is spent on apps.

The average time spent on communication and social apps is 2 hours and 22 minutes.

79.5% of users consider mobile banking as their primary banking channel.

Retail app users spend 201.8 minutes per month on shopping.

TikTok was downloaded over 800 million times last year.

61% of millennials download retail apps, and 58% choose to purchase through them.

In September 2020, 96.5% and 92.5% of free apps were available in the Google Play Store and the Apple App Store, respectively.
General Mobile App Usage Statistics
1. Communication and social apps had the broadest mobile reach at 97.9% of internet users.
(Statista)
Mobile users spend a lot of time using various apps for connecting with people, sharing ideas, marketing, and searching for employment, among other things. The most popular app categories in the US based on market reach are communication and social apps with a reach of 97.9%, followed by web browser apps with 97.6%, and utilities and tool apps with 96.6% reach. 
2. Statistics about mobile app usage reveal that 90% of mobile phone time is spent on apps. 
(eMarketer)
With the rise of various online video platforms, including streaming services, people spend less time watching TV. Most would rather watch their favorite shows from their mobile device via video apps. No wonder 90% of smartphone time is now spent on accessing mobile apps. According to stats, people mostly consume audio, social media, and videos. 
3. Mobile users spent an average of 2 hours and 22 minutes on messaging and social network apps.
(GlobalWebIndex)
Daily mobile app usage in 2020 on social networks and messaging alone reached almost two and a half hours. Based on demographics, Gen Z had the highest daily time spent on social media at 2 hours and 41 minutes. 
Millennials came second with 2 hours and 22 minutes, followed by Gen X with 1 hour and 49 minutes, and baby boomers with 1 hour and 11 minutes. Region-wise, the Asia Pacific recorded the highest daily time spent on social media apps at 2 hours and 8 minutes. 
4. 79.5% of users say that mobile banking is their number one banking channel. 
(Business Insider)
The restrictions during the pandemic have led people to magnify their interest in mobile banking. Mobile banking usage statistics 2020 cited that as many as 79.5% of bank customers considered mobile as their chief banking channel.
A survey was conducted to determine which banks offered the best features. Among the top banks in the US, USAA ranked first and was chosen by 78.3% of respondents as the financial institution with the most appealing mobile banking features. It was followed by the US Bank and Citibank with 78.2% and 75.7% votes, respectively.
5. The average time mobile app users spend shopping per month is 201.8 minutes, while web users only spend 10.9 minutes. 
(JMango 360)
Mobile app vs. mobile website statistics highlight the vast gap between mobile apps and mobile website use for shopping. Generally speaking, ecommerce mobile apps load faster and provide a better user experience compared to mobile sites. Also, apps offer extra features and special offers that are not as often present on mobile sites. 
6. 49% of app users ditch an app after just one day of using it. 
(Criteo)
Mobile app industry statistics reveal that an astonishing 49% of app users abandon a newly installed app after one day. Possible reasons for this action are the lack of trust, bad user experience, or the app's ineffectiveness. In any case, engagement is a crucial element for mobile app retention. It's typical for people to be skeptical about a new app. However, if they're engaged, they'll likely keep using it.
Additional mobile app sales statistics report that retailers doing their best to engage their customers gain a 23% profit boost.
7. Younger users aged 13-24 spend 3.5 times more on social media than those over 45. 
(App Annie)
Interesting stats on mobile app demographics feature three age groups to determine the app usage and preference. Younger users (13-24) spend 3.5 times more on using social media and streaming apps than people aged 45 and above. The latter age group has the lowest frequency of app use but the longest sessions. They also prefer using email apps. Conversely, people aged 25-44 have moderate app sessions and prefer both social and email apps. 
8. According to a case study on event apps, the mobile app adoption rate is as high as 99.3%. 
(Cvent)
The event industry took a big hit from the global outbreak that led to numerous cancellations and delays. However, the unfortunate circumstance also opened opportunities for virtual events that recorded remarkable results. According to a study, the adoption rate of an events app was a whopping 99.3%. 
9. App revenue statistics projected that by 2023, worldwide mobile apps would generate over $935 billion. 
(Statista)
Since 2014, mobile app revenues have been trailing an uptrend from $97.7 billion to over $365 billion in 2018. In 2023, the anticipated revenues will hit $935 billion through paid downloads and in-app advertising. 
Companies gain enormous profits mainly through in-app purchases. They capitalize on app extensions to rake in billions of dollars every year. Mobile users, particularly mobile gamers, buy content or subscriptions from in-app marketplaces or stores, and all these in-app purchases comprise over 50% of all mobile app revenue. 
Mobile App Usage Stats for Health Apps
10. As of Q3 of 2020, the number of available medical apps is 47,140 on the Google Play Store and 48,608 on the Apple App Store.
(Statista)
App usage statistics for Android and iOS revealed that each app store had over 47,000 healthcare apps last year. Some of these include mental health apps, various apps that track physical health, apps that help manage chronic conditions, and many more. With all these options, people are better able to monitor and increase their health consciousness.
11. Health app usage statistics confirm that one in five Americans use health apps. 
(Gallup)
These days, mobile health devices and applications are considered powerful tools. Mobile health technology, also known as mHealth, has made health care more accessible. Through mobile phones, people can have more control and be more responsible for their wellbeing, especially mental and physical health. Currently, there are over 100,000 health apps available for download across all stores. 
12. Roughly 50% of US adults in upper-income households have used both health apps and fitness trackers.
(Gallup)
Additional apps stats cite that the top health apps users are high-income households, about half of American adults. Meanwhile, only one in three adults from middle-income and one in four individuals in lower-income families use mobile health apps. 
13. In 2025, the market size for mobile health apps will ramp up to $50 billion. 
(Statista)
Nearly every product that's associated with mobile apps is blowing up the stats. Banking, game, and health apps—businesses in these industries give us impressive numbers and prove the massive potential of the mobile apps market. 
One of the mobile app usage facts reveals that the mobile health app market will surpass over $50 billion by 2025, a colossal increase from only around $2 billion in 2016.
Mobile App Download Statistics
14. In 2020, TikTok was the most downloaded app worldwide, with more than 800 million new downloads across all app stores.
(AppFigures)
According to app download statistics, TikTok won the hearts of people. Thanks to the large user base of Instagram where users typically share their TikTok videos, the app's download rate hit the roof. A 2020 report declared that TikTok had more than 800 million new downloads worldwide. This was a whopping 43% increase from 2019's 564 million downloads. 
15. Zoom recorded 485 million downloads in 2020.
(AppFigures)
The last year was also a business changing year for Zoom, a video communication app. Mobile app usage statistics 2020 revealed that it had over 485 million downloads — a significant increase from 2019's 16 million downloads. It rapidly became the standard communication platform shortly after the pandemic onset. 
16. WhatsApp has almost 5.9 billion users and was the most downloaded Android app in 2020.
(MakeUseOf)
If TikTok was the most downloaded app across all app stores, mobile app statistics 2020 declared WhatsApp as the most downloaded Android app. Compared to 2.9 billion downloads in 2018, the recent number more than doubled, reaching almost 5.9 billion.
According to app usage data, the second and third most downloaded Android apps were Facebook with nearly 5.5 billion, and Facebook Messenger with almost 4.8 billion downloads. 
17. 61% of millennials download retail apps, and 58% choose to purchase through them.
(JMango 360)
In 2020, the rise of mobile ecommerce apps had been dramatic. The industry's outlook on profitability has never been more optimistic because of the outbreak. 
Apple's App Store download statistics confirmed that most millennials have retail apps installed on their phones and prefer buying through them. 
18. The top 20 Internet of things (IoT) apps were downloaded more than 106 million times.
(App Annie)
In 2019, the number of app downloads for IoT apps reached 106 million. Some of these included Alexa, Roku, Google Home, and Xbox. This data makes it apparent that tech giants are slowly priming us for another era of high technology.
It's no secret that mobile phones will kick off a new chapter of smart products and connected devices through IoT in the coming years. According to apps statistics, IoT will help enhance our lives and working environments. This stat only confirms we are moving closer to that route.
19. APAC accounts for 64% of the total app downloads and usage worldwide. 
(Criteo, Entrepreneur)
Southeast Asians usually spend more than four hours using various apps on their smartphones, an hour more than in other regions. Smartphone penetration in SE Asia alone has been impressive. In 2019, 97 million mobile handsets were bought. Mobile app download and usage statistics unveil that APAC is responsible for two-thirds of all app downloads globally. 
20. Mobile gaming is set to hit $100 billion in all mobile app stores. 
(App Annie)
Pokémon Go, Candy Crush, Minecraft — these are just a few of the most popular mobile games in 2020. According to mobile app user statistics, people's enthusiasm for mobile games increased spending by 25% in 2019. In the same year, Call of Duty: Mobile, which ended up having over 250 million mobile downloads, and Mario Kart Tour were launched on mobile.
Due to the growing obsession with mobile games, mobile app download stats see the industry surpassing $100 billion. 
21. In the fourth quarter of 2020, Google Play Store was the leading app store with 3.14 million apps. 
(Statista)
The war between Apple and Google is nothing new. However, this time, it seems to boil down to mobile domination. According to stats, the number of apps in the app store owned by Google reached 3.14 million, making it the biggest app store worldwide in the fourth quarter of 2020. Apple came second with 2.09 million available apps for its users. 
Even though Google was the leading app store at the time, Apple outshined it when it comes to paid mobile content. In the same period, Apple App Store statistics recorded a total of $19 billion worldwide spending on its mobile apps, outperforming Google's $10.3 billion.
22. In September 2020, the percentage of free apps in the stores was 96.5% for Google Play and 92.3% for iOS. 
(Statista)
App usage statistics shared that most apps weren't free back in 2007. It wasn't until Steve Jobs launched the iTunes store that acted as a precursor to the now well-known Apple App Store that apps became standard for mobile phones. As apps became more relevant, their prices also dropped. Today, mobile users enjoy heaps of free apps. 
Fortunately, mobile app market statistics confirmed that over 90% of apps from both Google Play and Apple App stores are free to use. However, note that some freemium apps are disguised as free apps. Freemium apps are apps that are free to download but offer optional in-app purchases for premium content. 
23. Google Play app statistics boast over 100,000 new Android app releases per month. 
(Statista)
Android powers two-thirds of over 3 billion smartphones worldwide. That explains why Google floods the Play store with new apps. With over 100,000 new apps every month, more than two billion Android users have plenty of options at their disposal. That said, they can easily try different apps and replace old apps that don't satisfy their expectations. 
24. In 2020, Apple App Store had 957,390 gaming and 3.42 million non-gaming apps. 
(Statista)
As of July 2020, iOS app statistics revealed over 4 million combined gaming and non-gaming apps available for iPhone users. Gaming apps comprised 22% of the total apps in the App Store, or 957,390. 
From July 2008 to July 2017, a total of 180 billion apps had been downloaded from the Apple App Store. 
We hope you've found these statistics about mobile apps interesting. Mobile apps have shifted the way consumers think of mobile phones. Nowadays, a significant fraction of the mobile user population heavily relies on apps for multiple purposes, such as learning a language, managing health, connecting with people, and more. 
It's funny and at the same time clever that a handheld device previously used to only make calls and send messages is now optimized for almost everything, from shopping and trading stocks to playing games and running a business. 
These shocking mobile app usage stats prove that apps indeed revolutionized smartphones, and this trend will surely uphold. Businesses will continue to capitalize on mobile apps, given the vast opportunity it presents for profits. Developers will also incessantly create apps to solve the most complicated problems in the world. That alone makes us feel excited about the future of mobile apps. 
How do I find app usage statistics?
Checking app usage on your phone is easy. Android users can follow these steps to check battery life and internet data. 
To check which mobile apps drain your battery: 
Open settings, and tap "Battery."

To further check

Android app usage,

select "Battery Usage," and under the "App" tab, you'll see which apps consume battery the most.
To check which mobile apps use the internet and data: 
Open settings, and choose "Network & Internet."

Select "Data Usage."

On the same page, tap "View Details." Scroll through the list of apps to check how much data each app uses. 
To check the iPhone app usage stats, you can follow these steps:
Launch the Settings app.

Tap "Screen Time."

Select "See All Activity."

Scroll down to check app usage. To see all apps, tap "Show More."
How many mobile apps were there in 2020?
In 2020, Google Play had 3.14 million available apps, while the App Store had nearly 2.09 million apps. The Amazon Appstore offered approximately 450,000 apps for Android. Other third-party Android app stores located in China had over 100,000 apps. All-in-all, that's a total of over 5 million apps. 
How many downloads should I expect for my app?
Several variables affect the number of downloads. First is the category. Game apps get the most number of downloads, so you might get more downloads if you're launching a game app. 
The second is the app's description. Developers typically have only a few seconds to make an impression and sell their apps. Multiple other factors affect the number of downloads, so we can't list all of them here. Some app publishers estimate 500 organic downloads per day as a rough benchmark.
Therefore, it really depends on the type of app, your objective, and marketing. 
What age group uses apps the most?
According to demographics data, younger people aged 13-24 use apps the most. This age group has the highest frequency of app usage, longest sessions, and is the most engaged with social media apps. 
How often do people use apps?
The average user opens nine apps per day and 30 apps per month. That's hardly surprising, given that modern mobile phones have sizable built-in storage features and expandable memory. 
Although large storage allows users to download and keep as many as 50 or 80 apps, according to mobile app usage statistics, the majority of these apps won't be in use. Some of the apps people regularly use only include social and communication, utilities and tools, entertainment, news and weather, shopping, and finance. Other category apps are rarely used.
Sources: