In August 2020, Apple's worth reached $2 trillion. It may be the second "A" in FAAMG, but it was the first publicly traded US corporation to pull off such a milestone. Although the company couldn't sustain such a valuation, it confirmed that investors were beginning to view Apple as a software company.
Before Apple could outgrow the economies of most countries with its mammoth market capitalization, it was just a computer maker that broke the mold of smartphone engineering.
Its greatest creation—the iOS—gave birth to the iPhone. More than 13 years after it was rolled out, countless iOS statistics attest that this piece of technology remains the company's bread and butter.
Could Apple live off the iPhone forever? Why don't stockholders think of the smartphone vendor as a hardware company anymore? Read on to learn the answers to these interesting questions about Apple's business and future.
Top iOS Stats and Facts (Editor's Choice)
iOS owns a quarter of the mobile OS market share worldwide.

In 2021, more than 45% of US smartphone users own an iPhone.

9 in 10 iPhone owners don't intend to buy an Android device.

iPhone users browse with Safari nearly 92% of the time.

In the first fiscal quarter of 2021, Apple broke its all-time revenue record.

Less than 10 iPhone models have been obsolete.

In January 2021, TikTok was the

most downloaded app on iOS

with around 5.6 million downloads in the US.
Robust iOS Adoption Statistics
1. iOS accounts for approximately 27.47% of the global mobile operating system market share in 2021.
(Statcounter GlobalStats)
Apple may control a relatively small portion of the market, but it has consistently been considered the richest smartphone manufacturer on the planet. Thanks to its high profit margins, the company makes an insane amount of money without having to sell the most units.
2. In Q2 2020, Apple was the third-largest smartphone vendor in the world.
(Statista)
Around that time, 13.5% of all devices were powered by iOS. Since Q2 2018, the American tech behemoth has been racing Asian rivals Samsung and Huawei to the top. And, as evidenced by pertinent iOS device statistics, Apple has briefly tasted first and second places. Trailing by just 2.6%, fourth-ranked Xiaomi could overtake the company in the near future.
3. In 2021, 45.4% of US smartphone users are iPhone owners.
(Statista)
Since 2018, this figure has grown by 0.10% every year. Although non-iPhone users are less loyal to their smartphone brands, Apple still finds it difficult to make them switch from Android to iOS.
4. According to iOS distribution statistics, in December 2020, the iOS 14 adoption rate stood at 72%.
(Apple)
Another 18% of iPhones were running iOS 13, while the remaining 10% were using earlier operating systems. 
Among the Apple smartphones sold over the last four years, the recent iOS version user statistics reveal that the adoption rate was 81%. Only 17% of devices were running iOS 12, while older OS iterations powered the other 2%.
5. 85% of US teens own an iOS device.
(SamMobile)
Based on 2019 Android vs iOS usage statistics by age, this figure increased by 2% over a year. While said stat mostly reflects the preference of teens from higher-income households, adolescents from lower-income families might be able to join the iOS ecosystem since a less costly iPhone SE version is on the horizon.
6. 88% of US teens expect their next smartphone to be an iPhone.
(MacRumors)
Only 8% of US teens intend to buy a non-iPhone device. According to 2019 iOS vs Android statistics, this figure used to be 10%.
This illustrates the growing irrelevance of Apple rivals in the States, especially Samsung. In addition, it suggests that the US smartphone market might become harder to penetrate in the future since new generations of Apple users could develop brand loyalty early.
7. 90.5% of US iPhone owners have no plans to switch to Android.
(BGR, Counterpoint)
However, this did not have a notable effect on the United States Android and iOS statistics for 2019. And iPhones have been selling the way Apple expected them to be. Apple customers are generally viewed as extremely loyal, and these figures speak volumes about that stereotype.
8. 21% of US iPhone users considered adopting an Android, but don't want to leave the iOS ecosystem.
(BGR, Above Avalon)
The iPhone is a gateway Apple product. A conservative estimate argues that only 100 million Mac or iPad users don't own an iPhone. In other words, iPhone ownership has been an effective weapon Apple uses to keep its customers glued to the company.
Fascinating iOS Usage Statistics
9. 91.75% of web traffic on iOS comes from Safari.
(NetMarketShare)
Safari enjoys the lion's share of the market not just because it's the default browser on iOS, but also because Apple has never given its customers the option to change it. Most iPhone users aren't keen on using a third-party app for browsing.
Why do the majority of iPhone users stick with their default browser? Safari has an unmistakable charm, despite the fact that it doesn't adopt new web development innovations as fast as other browsers. Among other things, Safari supports iCloud synchronization, which makes it painless to move between Apple devices, and relentlessly combats web trackers.
10. iOS device owners use Google Chrome less than 6% of the time.
(Express.co.uk, Digital Commerce 360)
Safari has been peerless in iOS. But Chrome iOS statistics may change when the 14th iteration of the operating system is rolled out. iOS 14 allows third-party apps to become the default browser for iPhones.
Will iPhone users ditch Safari for Chrome? Maybe. But most of them might go back to the one they're used to, since Chrome for iOS is basically Safari masquerading as Chrome, as tech pundits noted. Until the best version of Chrome is available for use, it's bound to pale in comparison to Apple's native browser.
11. 29.6 million iOS owners worldwide began using WhatsApp in Q4 2020 alone.
(Statista, Forbes)
This Facebook-controlled messaging app has been a huge hit among Apple customers. In spite of concerns for the app's popularity on iOS in 2020, iOS WhatsApp statistics show a rise compared to 2019.
It was thought that the switch to iOS 14 could encourage iPhone owners who use WhatsApp to switch to iMessage. The new OS version gives Apple's own messaging service a facelift with pinned conversations, mentions, and inline replies, among others, improving its overall usability.
However, statistics showed that the app is still widely popular on iOS 14.
12. Among Us ranks 1st among the most downloaded iOS game apps in 2020.
(Apptopia)
With 264 million downloads in Q4 2020, Among Us took the world by storm. What made this figure more impressive in comparison to other iOS app statistics was that the app was launched in 2018. The true potential of this social deduction game was only discovered in 2020, when our opportunities for socialization diminished.
13. In January 2021, TikTok was the most downloaded app on iOS with around 5.6 million downloads in the US alone.
(Statista)
iOS Store statistics show that TikTok also ruled (and still rules) other markets, too. In 2020, TikTok was the most downloaded app in Europe and the rest of the world, with 850 million downloads in 2020. And as we can see in 2021, it's not about to stop. 
14. 200+ health-care providers use the Apple Health app to check out patients' medical records.
(NPR)
Since the tech company allowed users to store their medical histories in the app via their iPhone, Apple Watch, and third-party health and wellness apps that connect with HealthKit, many customers have done just that.
As iOS Health statistics show a continuous increase in adoption rates, Apple is getting closer to delivering on its promise to alleviate the health-care industry's interoperability challenge.
The Cupertino-based multinational isn't the only tech brand trying to provide medical professionals with greater data access, and improve patient engagement. Privacy is what separates Apple from Google, Microsoft, and Amazon. Although Apple doesn't have an immaculate track record, it has the best reputation for security among the Big Tech.
Impressive iOS Statistics About Sales and Revenue
15. In the first fiscal quarter of 2021, Apple broke its all-time revenue record.
(Apple)
Apple brought in revenue of $111.4 billion, growing 21% compared to the fiscal Q1 of 2020.  Interestingly, 64% of the revenue came from international sales.
16. With over 230,000 units sold, 2015 was iPhone's biggest year.
(Statista, TechCrunch)
The Chinese market played a huge role in making 2015 a memorable year for Apple. According to sales statistics for iOS devices, the number of iPhones sold in China jumped by 100% around that time. However, industry observers give most of the credit to the iPhone 6 and iPhone 6 Plus sales — two models with super large display sizes.
17. At the end of 2020, the number of active iPhone users reached 1 billion.
(Reuters)
According to 2019 iOS statistics by device, iPhones were actively used by 900,000 million individuals. Since Apple customers rarely use more than one iPhone, said figure presumably represented different individuals. Based on the company's historical user base growth, about 100,000 million new iPhone owners joined the Apple family in 2020.
18. In 2020, Apple's market share of the global smartphone market was 14.8%.
(Gartner)
The company grew by 3.3% compared to 2019, taking Huawei's place as number two on the most popular smartphone vendor list. Along with Xiaomi, it was the only vendor on the Top Five list to experience positive growth in 2020.
19. According to 2018 data, Apple owned 49.8% of the global smartphone revenue share.
(Statista, Investopedia)
In Q4 2017, the company garnered 51% of all the revenues made by smartphone vendors. It marked the first time that it claimed more than half of the whole pie.
Time after time, Apple has said that it's not particularly obsessed with the total number of products it sells. Its stock price is more tied to its revenue growth and less to the iPhone market share, and average selling prices of its devices.
That's why most stockholders would keep their faith in Apple even if the iPhone reached its peak today. The company's other business units are all growing in double-digit percentages, making up for the smartphone segment's stagnating revenue.
20. iPhone sales accounted for just 44.3% of Apple's overall global revenue in Q3 2020.
(Statista)
It has been the segment's lowest recorded quarterly share since Q4 2011. In addition, about a decade's worth of iOS stats would reveal that it's only the fifth time the iPhone contributed less than half to Apple's coffers over the last 35 quarters.
Does this slowdown suggest that the iconic smartphone has become less popular? Not necessarily. Apple's faster-growing lines of business, especially the Services segment, could explain this.
21. iOS device sales brought Apple $26.42 billion in revenue in Q3 2020.
(9to5Mac)
This figure translated to an increase of 1.66% year-to-year, the slowest growth among Apple's business segments. Nevertheless, it's an impressive sales number, considering the massive economic impact of COVID-19 worldwide.
22. With $9.45 billion in revenue, Apple was 2018's 4th-largest gaming company in the world.
(AppleInsider)
This figure was only bested by Tencent, Sony, and Microsoft. Industry mainstays like Nintendo and EA envied the iPhone maker's iOS game revenue statistics, including the company's YOY growth of 18%.
Apple's place in the top five was admirable, though it could have overtaken Microsoft if not for its strong Q4 revenue. Chasing the market leader wasn't feasible over the short term, though. Tencent's gaming revenue was more than twice the size of Apple's that year.
23. In 2020, Apple brought in $72.3 billion in revenue from iOS apps digital goods sales.
(Statista)
Apple's rising iOS app revenue statistics show it has been the catalyst for the revenue growth of its Services segment over the years. But those days might be over, for app owners have begun pushing back.
Fortnite maker, Epic Games, has filed an antitrust case against the tech giant's monopolistic App Store. The lawsuit stems from Apple's removal of Fornite from the digital distribution platform due to a terms of service violation.
Across the pond, Apple has also been facing antitrust scrutiny caused by Telegram.
24. Fortnite players have made Apple $360 million richer.
(Android Authority)
It's one iOS Fortnite statistics that would suggest that Apple and Epic Games would do good business together for a long time. However, the two have fallen out over money, ever since the latter introduced a direct payment method in order to avoid the 30% commission the Apple collects per in-app purchase.
Only time will tell how the store owner and the iOS developer's legal battle will end. But a potential Epic Games' victory could have a ripple effect on the entire Apple Store ecosystem.
25. Priced at $1,099, the iPhone XS Max was the first Apple phone to cost more than a grand.
(Fox Business)
Launched in 2018, its price was 120% higher than the first iPhone. In anticipation of "sticker shock," Apple rolled out the iPhone XR, the $749 version of the deluxe iPhone XS Max, in order to lure in those consumers who weren't ready to spend such a crazy amount on a smartphone.
26. The most expensive iPhone was retailed at $100,000.
(The New Indian Express)
Made in partnership with a Russian luxury brand, the Caviar Solarius Zenith Full Gold iPhone 11 Pro was easily the priciest phone in the world. Its back is adorned with a functioning clock plated with 24-carat gold and studded with 137 diamonds. At about 15 ounces, it's over 100% heavier than its base model.
The extravagant back and increased heft aside, this regal piece of technology has the same features and specifications as a typical iPhone 11 Pro.
27. In Q1 2020, there were 9.3 billion iOS App Store downloads.
(Statista)
Historical iOS app download statistics showed that this figure was record-breaking. Despite Google Play's uncatchable 24.3 billion app downloads, Apple's platform was the stronger revenue machine.
28. There were at least 957,390 games in the iOS App Store in 2020.
(Statista, 9to5Mac)
Games make up the biggest app category on the platform, which also hosted 3.42 million non-gaming apps in the store last year. In terms of game app popularity in 2020, Among Us topped all free games played on the iPhone and iPad, respectively. Meanwhile, no paid game app was downloaded to either device more than Minecraft. 
29. By early 2020, only 9 iPhone models had been obsolete.
(The Sun, India Today)
Many iOS version statistics have proven that Apple has a reputation for supporting earlier versions of the iOS for an unusually lengthy period. Supposedly, the oldest smartphones from the tech titan in the wild are iPhone 6S and iPhone 6S Plus, which were released in September 2015. No Android phone vendor has been willing to keep its product alive as long.
Moreover, rumor has it that the iOS 14 update might be available for iPhone 6S and iPhone SE too. The A9 chip embedded in these older devices is the primary reason they might get some support extension from their maker.
30. By July 2020, there had been two waves of iOS app crashes due to Facebook SDK.
(9to5Mac)
Tiktok, Spotify, Quora, Pinterest, and Tinder were some of the most prominent additions to the iOS crash statistics in these two incidents. Many of the compromised apps used Facebook to log in. The others that didn't rely on the social network also crashed upon launch because they're built with the software development kit.
Before Facebook fixed the bug, the only workaround was running the software in airplane mode. Only the apps that were useful when offline benefited from it, though.
31. XcodeGhost has infected 39 iOS apps.
(Norton)
According to iOS malware statistics, most of the apps affected by this malicious code were popular among iPhone users in China. WeChat, Didi Chuxing, Railway 12306, China Unicom Mobile Office, and Tonghuashun being some notable ones.
Discovered by Chinese iOS app developers, XcodeGhost could steal usernames and passwords by creating fake phishing alerts and copying data from a device's clipboard. This malware could also allow the attacker to hijack an iPhone's browser in order to capitalize on the vulnerabilities of the operating system and other iOS apps.
32. Some websites distributed mystery iPhone malware using 14 iOS vulnerabilities over a 24-month period.
(Malwarebytes)
Apple products have never been completely invincible, but iOS security statistics show that average iPhone owners were rarely threatened. In this case, the cyberattack didn't cause panic. Although said websites haven't been identified, most of the iOS vulnerabilities used to execute different attacks have been patched.
33. 91% of iPhone users don't allow advertisers to track their online activity.
(Forbes)
Such a stunningly high number is a reflection of Apple's unique selling proposition: privacy. Many iPhone enthusiasts specifically bought their iOS devices to browse the internet in peace.
This is one iOS browser usage statistics that has convinced most advertisers to shun Safari. Instead, they've been gravitating to Google Chrome, for almost 8 in 10 of its users are accommodating to trackers.
34. The cost of advertising to Safari users dropped by more than 60% from 2017 to 2019.
(The Information)
This stat could be attributed to the Intelligent Tracking Prevention developed by Apple. Constantly updated to keep up with unscrupulous advertisers, it has stricken fear into the hearts of companies that don't want to get on the tech giant's bad side. At one point, Apple warned that advertisers who track Safari users with no consent will be treated like cybercriminals.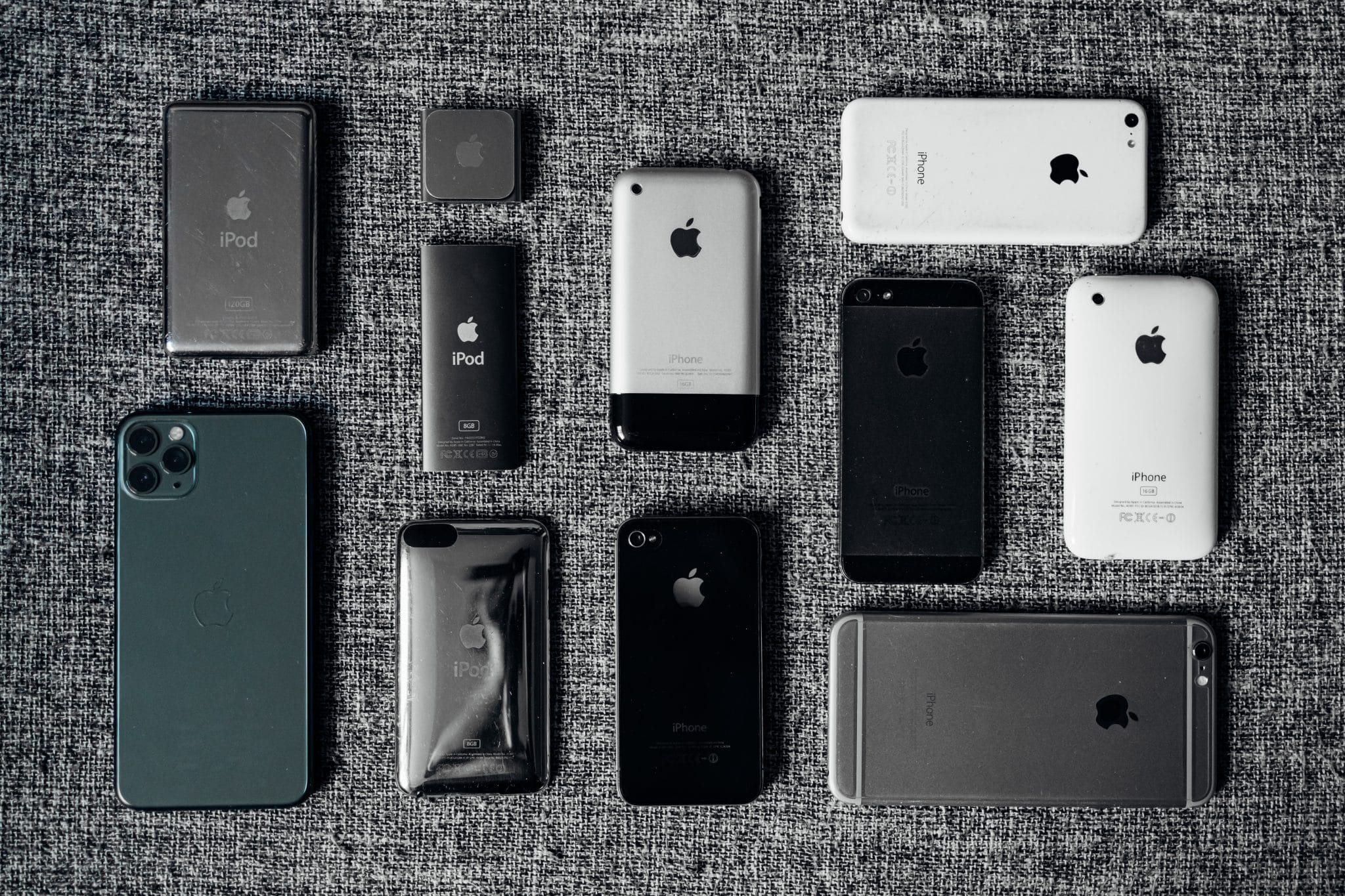 The iPhone is still Apple's marquee product; its contribution to the company's revenues may now be in decline, though. Nevertheless, iOS will continue to power Apple's business and, one way or another, be instrumental in realizing future milestones.
How many customers does Apple have?
There are now more than 1.5 billion Apple devices in the wild, a milestone Tim Cook and Co. achieved in early 2020.
Some tech pundits believe that the iPhone has reached its peak market share, which means it's bound to plateau at best from here on out. But, Apple is keen on growing the user bases of its product lines to bring in more people to its massive ecosystem.
How many Apple products are sold a year?
From 2010, the first year when the Mac, iPhone, and iPad were all present on the market, to 2018, Apple sold approximately 224,403,000 units of the three products on the average.
The average sales figure from 2015, a record-breaking year for Apple, to 2018, the last time the company reported such data, stood at 285,461,250 units.
Other than Apple's most popular products, the tech giant can boast with others like the iPod, Apple Watch, Apple TV, HomePod, and AirPods, in addition to an extensive selection of smart products and accessories sold on its website.
Judging by the decrease in company revenue in 2019, Apple, in all probability, sold fewer products than it usually does. However, in the first fiscal quarter of 2021, Apple broke all revenue records.
Who created iOS?
The iOS was developed by a group of engineers Apple recruited for the covert iPhone project, under the codename "Purple." The tech savants worked at the "purple dorm," a building dedicated to iPhone development that had a college vibe.
At the time, the would-be iOS creators had no clue that they were developing the heart of the iPhone. All they knew was that their job was to make a cellphone with a much wider screen and that must come with a purely touch-based user interface.
What does iOS stand for?
It was short for iPhone OS. In fact, it was the brand name used to market the ground-breaking mobile operating system until its fourth version. Apple decided to ditch the word "phone" simply because the entire phrase was too awkward to say while iOS rolled off the tongue.
What was the first iOS?
The first iteration of iOS was called iPhone OS 1.0. For better or worse, it was unlike any of the mobile operating systems at the time.
It didn't support many of the things expected from a smartphone then, such as 3G, multitasking, MMS, text copying and pasting, home screen customization, voice dialing, MS Office file editing, or third-party applications.
Despite these head-scratching deficiencies, Apple enthusiasts appreciated the few things the novel software did remarkably well. What iPhone 1.0 lacked in features, it made up for user experience. Capacitive touchscreen technology, Mobile Safari, and iPod functionality were the stellar qualities that captured the hearts of early iPhone users.
How many devices run iOS?
Although iOS was originally designed for the iPhone, it has been used to power the iPad, iPod Touch, and HomePod.
After iOS 12, the mobile operating system for the iPad was rebranded to iPadOS to showcase its departure from iOS, due to its greater emphasis on multitasking.
Further, the OS of the HomePod is now based on tvOS instead of iOS, starting with the 13.4 iteration.
iOS 14.4, the latest version of Apple's prized OS as of now, is available for the following iOS 14–compatible devices:
iPhone 12 mini

iPhone 12

iPhone 12 Pro

iPhone 12 Pro Max

iPhone 11

iPhone 11 Pro

iPhone 11 Pro Max

iPhone XR

iPhone XS

iPhone XS Max

iPhone X

iPhone SE (1st and 2nd generation)

iPhone 8

iPhone 8 Plus

iPhone 7

iPhone 7 Plus

iPhone 6s

iPhone 6s Plus
Among other things, iOS 14.4 comes with support for a new COVID-19 exposure notification system. Built with Google, this coronavirus tracking feature supplements existing contract tracing initiatives and helps eliminate the need for health departments and other government agencies to build dedicated apps.
How many iPhones are in use?
Approximately 65% of Apple products in active use are iPhones. In April 2017, 728 million units were used worldwide. In January 2019, the number of actively used iPhones went up to 900 million.
Currently, there are over 1 billion iPhones in use, according to an announcement by Tim Cook for Reuters.
What is the oldest iPhone Apple still supports?
In 2020, the iPhone 6S and iPhone 6S Plus were the oldest iOS devices Apple supported. In short, any iPhone model that came before the two are now considered unsecured.
Unsupported operating systems, which usually reside in older pieces of technology, don't receive security updates anymore due to impracticality. Users of such devices who refuse to upgrade are highly susceptible to cyberattacks.
The older the unsupported device is, the likelier its vulnerabilities have already spread throughout the criminal underworld and become common knowledge among threat actors.
What age group buys the most iPhones?
The only thing we know about the age of iPhone users in the US is that nearly 9 in 10 American teenagers prefer iOS to Android. There isn't much data about adult iPhone ownership in the country. Then again, age isn't the only determinant of iPhone adoption.
Several surveys found out that, compared to Android users, iPhone owners tend to be women, be more educated and affluent, work as professionals, hold leadership positions, be less tech-savvy, spend more time using mobile apps, be politically liberal, and be well-traveled.
While numerous iOS statistics can prove said descriptions wrong, at least researchers have given us a reliable statistical portrait of iPhone owners.
Sources: