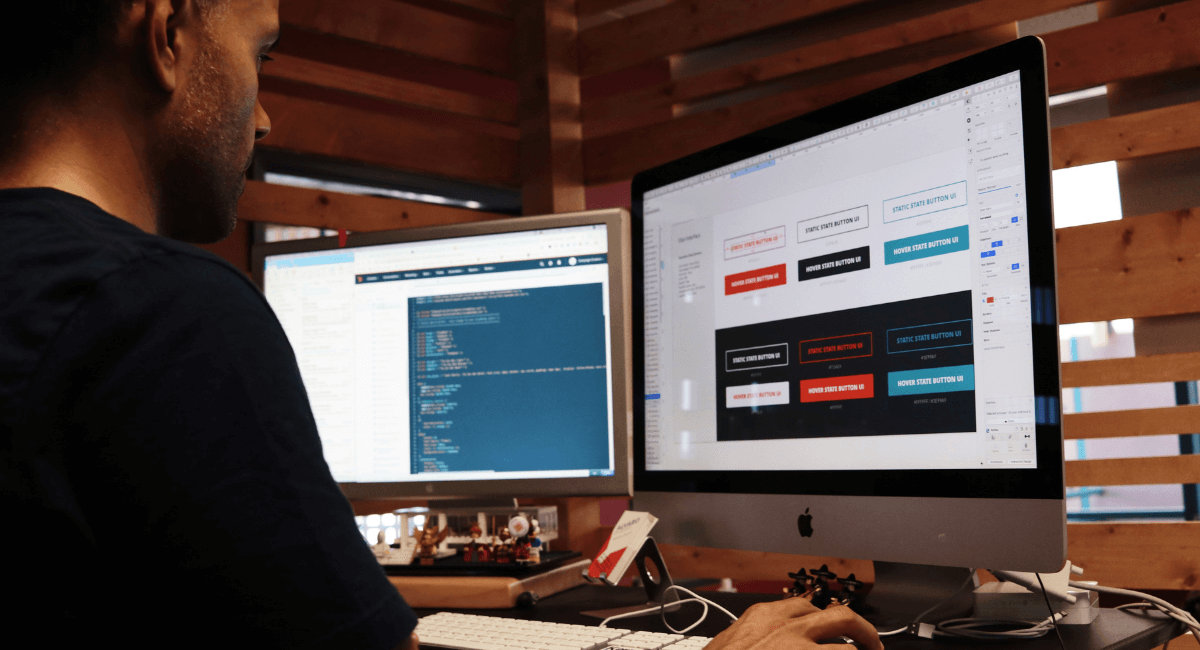 In today's digital world, a developed online presence can make or break a business. What was once a simple design process is now an advanced and specialized sector. As consumers become more accustomed to finding information and shopping online, a poorly designed website can mean losing a customer. These latest web design statistics show just how influential websites are for modern business success.
Top Web Design Statistics (Editor's Choice)
40% of users will give up on a website that takes more than 3 seconds to load. 

Longer page loading time is not always a bad thing as it might boost the bounce rate for the website. 

WordPress is the biggest website platform in the world. 

It takes only 50 milliseconds for a website visitor to form the first impression of the page.

Blue, green, and orange are the most important colors when it comes to website design. 

57% of users won't recommend a business with a poor mobile website.  

Websites optimized for mobile viewing generate more than half of the total online traffic. 

For every dollar invested in better UX design, companies receive $100 back in revenue.
Essential Website Design Statistics
The industry of web design is rapidly changing with the evolution of digital technology, and the modern internet user is a harsh critic. Today's users expect lightning fast load times and clear and compelling designs that are easy to navigate. Industry experts must readily respond and innovate new designs that compel users to engage, respond, and most importantly, stay on pages in order to generate business. 
1. There are more than 1.9 billion websites in the world. 
(Internet Live Stats) 
The number of websites in the world is currently approaching 2 billion, with one website launched almost every second. According to current website statistics, there are more than 6 million blog posts written per day and about 7 billion Google searches. With so much content saturation, quality design is an integral aspect of having a website stand out. 
2. Internet users spend almost 7 hours per day browsing online content.
(We Are Social) 
An average internet user in 2020 spent 6 hours and 55 minutes browsing or engaging on the Internet every day. While these numbers are influenced by the COVID-19 restrictions, website usage statistics show that some of these patterns are likely to stay. For example, desktop and PC optimized websites gained more average time over the last year, showing that many users may be returning to older internet browsing habits rather than sticking with smartphones. 
3. Average loading time per page is 2.39 seconds. 
(Content Square) 
While page loading time can be influenced by the quality of the users' Internet connection, it's web design that really determines how long it takes to access a webpage. Modern internet users are fickle and impatient and are likely to move on if a page won't load in under 3 seconds, making design an integral component of web user retention.  
4. Website speed statistics show that as page loading time increases from one second to three seconds, the bounce rate of users goes up by 32%. 
(Deloitte) 
Website bounce is the number of users who land on a website and immediately move away from the page by clicking the 'back' button, closing the browser, or typing in a different URL. If the page takes up to 5 seconds to load, there is a 90% bounce rate, and after more than 10 seconds, the rate is 123%. 
With the number of people now using mobile browsing as their main way of browsing the internet, mobile-friendly web design that includes fast loading time is a pressing demand. 
5. Current web development statistics report 61% of Internet users say they'll likely continue to spend more time online once the pandemic is over. 
(Salesforce) 
The move to an entirely online world changed the expectations of many internet users about web presence and design. With internet users spending more time online than ever, 68% report that they expect much more from businesses when it comes to their digital content and approach. 
6. WordPress dominates the website design market, hosting 43.1% of all websites on the internet. 
(W3Techs) 
It seems WordPress is unbeatable when it comes to its CMS platform. Although other services like Wix or Weebly are now strong competitors, WordPress still holds that standard for website design. For most new designers, their platform is not an option but a process they must learn to get to advanced stages of web development.
7. 69% of a website's content is never visited by the user. 
(Content Square) 
Web developer statistics show that across all industries, almost 70% of content on a website is never seen by most users who visit the page. This is a telling fact for web designers and businesses alike, as developer teams are spending a vast majority of their time maintaining and updating content that is irrelevant to their user base. 
The most notable industries with unread content were the beauty industry, with 73.6% unread site content, and financial industries at 75.4%.
8. Website first impression statistics show that users make a first impression of a website in the first 50 milliseconds of viewing.
(Sweor)
It takes only 0.05 seconds for a user to make a quick first judgement on the website they're visiting. A bad impression not only increases the likelihood that the customer will bounce to a different page but also that they won't ever return to the site. 88% of internet users said they wouldn't return to a page after having a poor experience. 
9. Web design facts show that 85% of consumers say that the color of an item was the main reason they purchased it.
(Neil Patel, WordStream) 
Do not underestimate the power of color. With 93% of consumers saying that visual appearance is a main influence on their shopping experience, the design considerations of color have a significant impact on the success of a website. Notably, color increases brand recognition by 80% and can make it more likely for a user to click on an action link, such as a shopping cart, sign up, or download button.  
10. 82% of web designers say that 2020 changed how they view the future importance of website design. 
(Adobe) 
2020 was, to say the least, an eventful year for anyone professionally involved in digital technologies. Web designers say the year changed and improved their ability to adapt and innovate quickly as 2020 was marked by frequent interruptions to how they present and publish their work. 
11. Web design industry analysis shows that 83% of web designers think they need to constantly look for ways to improve their skills. 
(Adobe) 
Web design is a fast changing area of work with innovations happening all the time. Staying on top of your game means to continuously look for ways to improve. The majority of designers agree on this as they keep on the lookout of new areas of design they could specialize in.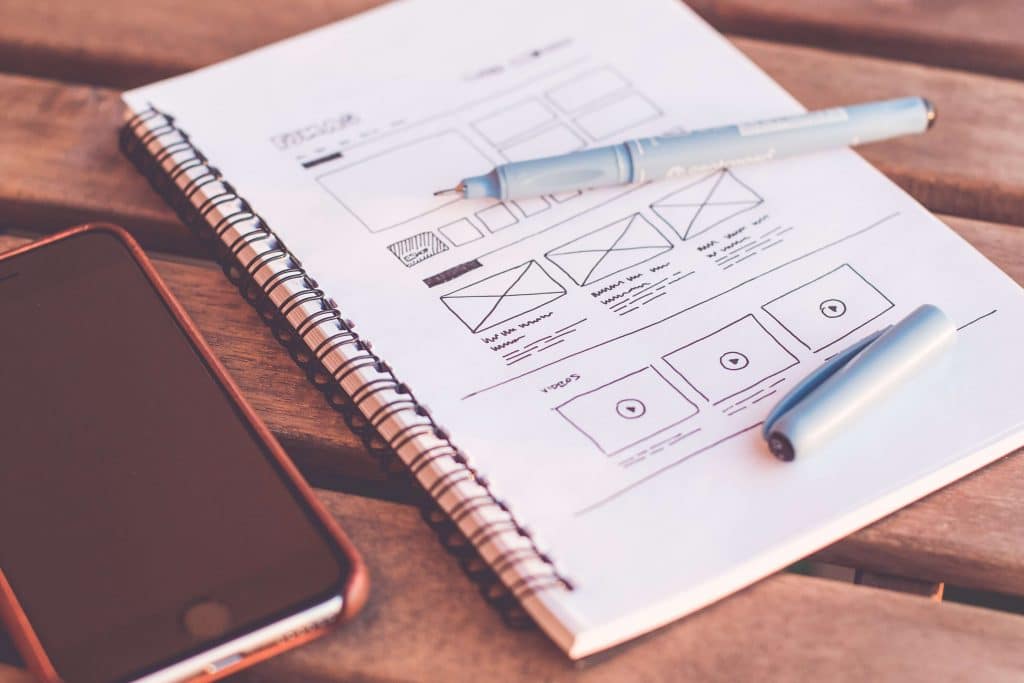 Mobile Web Design Statistics
Smartphone technology is rapidly changing the way that users browse the web. What was once avoided by developers is now becoming an essential service. Mobile web design is at the forefront of the industry, with most users choosing to browse, shop, and purchase items exclusively on their mobile phones. 
12. Mobile websites make up more than half of total Internet traffic. 
(DataReportal, CIO Dive) 
With almost 4 billion mobile internet users, the standard for mobile websites is only getting higher. Website design facts report that mobile users spend even less time forming a first impression upon visiting a website than desktop users. 
Mobile users held 70% of the share of mobile traffic in 2018, and it's only increased since the pandemic. Without a sleek and fast design for smartphones, businesses will be quickly dismissed by the modern mobile consumer. 
13. Web design statistics in 2021 predict that by 2023, 75% of all e-commerce will be done over mobile websites. 
(Deloitte, DataReportal) 
E-commerce on desktop devices has been steadily decreasing as smartphones become more sophisticated and into the hands of over 5 billion people worldwide. 
Mobile site speed has a significant impact on page views, conversion rates, and average order value, indicating the need for a streamlined, simple, and fast design targeted at mobile users. 
14. Business website statistics show that 57% of users won't recommend a business with a poor mobile website.  
(Sweor)
To this day, word-of-mouth is one of the best forms of advertising, but bad mobile design is a sure way to lose recommendations. Lack of responsive sites, poor screen fit, and other important factors all contribute to the overall user experience on a page. 
Poorly designed mobile sites often fail to maintain guest retention or get a recommendation from users. 
15. 85% of Internet users think that a mobile website should be equally good, or even better, than the desktop version. 
(Visually) 
Internet users don't rely on mobile websites as second sources anymore. As mobile devices are no longer the secondary digital device to access the Internet, the mobile site is the first point of access for any business. As mobile friendly website design statistics show, users think that mobile website design should actually outbest the one they've seen in the desktop version. 
16. 40% of users will give up on a website that takes more than 3 seconds to load. 
(Neil Patel) 
According to website load time statistics, almost a half of web users will simply leave the page if they have to wait for too long. Of course, the slow loading process may happen on the user's part, but it's more often the result of a poorly coded design that takes forever to load. 
According to this data, companies should strive for the optimal solution between eye-catching, fast, and responsive design. Statistics are clear on this topic: a slowed downloading time can cause significant material damage. If a site with daily earnings of $100,000 has one second delay in loading time, that could result in up to $2.5 million in revenue loss. 
17. 3 out of 4 people use their smartphone first when conducting a search online. 
(Blue Corona) 
Web design trends show that smartphones are now most users' first access to digital information making mobile friendly applications and web designs a primary focus for marketing. Without a seamless mobile experience, customers are quick to move onto the competition. 
18. 40% of website visitors are not going to engage with the page if it's not completely mobile friendly. 
(Blue Corona, Impact) 
Users don't want to wait their time adjusting the site on their own for mobile viewing. If they get the impression that the site is not entirely optimized for mobile browsing, they're not going to engage with the content. As such, 48% of mobile browsers report they feel frustrated when a site is not optimized for mobile. 
19. Business stats about websites suggest that 91% of small businesses haven't optimized their websites for mobile viewing. 
(Red Website Design) 
Optimizing a website for mobile viewing can be a serious investment of resources for a small company, but the cost without it may be even more detrimental. Notably, a single second of added load time can cause a 27% drop in sales, and eight out of ten consumers said they would leave a page if it didn't show up properly on their screen.  
E-commerce and Website Design Statistics
As e-commerce is predicted to continue rising, web design is one of the crucial aspects in successful e-business. Understanding the modern digital consumer is a central concern to optimizing online shopping. 
20. Mobile users are more likely to add items to the cart when visiting e-commerce websites. 
(SaleCycle) 
8.96% of mobile shoppers will add items to the cart when browsing through mobile consumer sites, while only 4.35% of them will do so when using a desktop. Conversion rates are still higher with desktop shoppers, however, at 1.98% compared to 1.81% for mobile shoppers. 
21. Responsive web design stats show that smartphone consumers are more likely to convert if they can make a fast purchase. 
(Think With Google) 
With e-commerce, it's all about conversion rates. Smartphone shoppers are 66% more likely to click that purchase button if they can do it fast, making website navigation, product design and loading time key factors in converting customers.
Having clear and bright action buttons to complete purchases, simple but sleek designs, and easy product browsing are all responsive techniques to make purchasing fast and easy for smartphone users.  
22. According to average website traffic statistics, websites offering luxury, apparel and beauty products generate the most mobile traffic. 
(Content Square) 
Website traffic also depends on the industry. With smartphones taking up 55% of all online visits, over 60% of that mobile traffic is allocated to browsing luxury, apparel, and beauty products. Desktop traffic, however, represents a different demographic, with around 50% of its traffic dedicated to financial and energy industry sites.  
23. User experience statistics suggest that poor UX is responsible for 70% of consumers abandoning their carts on shopping websites.
(Red Signal) 
Cart abandonment rates are always high (75.52%), and an expected part of ecommerce. The reason behind this behavior, however, may be because of poor user experience. Other than intrinsic shopping motives (the actual desire to purchase the product), it seems that poor UX may be the greatest cause of shopping cart abandonment. 
24. 17% of shoppers abandon their shopping cart because the site has errors or it crashes.
(WordStream) 
Almost one fifth of customers try to make a purchase and can't complete it because of a site error, but this isn't the only reason that consumers leave their items and bail. E-commerce web page statistics show that most shoppers will abandon their carts because the items are too expensive for them or the site wanted them to create an account. An additional 26% of users will leave their cart because the checkout process was too long or too complicated. 
25. For every dollar invested in better UX design, companies receive $100 back in revenue. 
(Forbes) 
Do not underestimate the value of a well-designed website. The web design industry is invaluable at this point to the success of any commercial business. Websites that are clear, attractive, and informative generate customers that enjoy their shopping experience. Amazon saw gains of up to $300 million a year simply due to an improved UX design. 
26. 35% of Google searches will result in a purchase in the next five days. 
(WordStream) 
According to recent design stats, user behavior profiles are often easy to predict, at least in larger patterns. Consumers don't behave in a random way but use digital tools such as smartphones and search engines for many purposes, and browsing and purchasing products is one of them. As such, one-third of Google searches will result in a purchase within the week, making search engine optimization irreplaceable in modern web content design strategies. 
Recent web design stats show a rapidly evolving and expanding industry that is influencing the daily lives of almost everyone in the world. With new websites joining the billions already existing every day, how to stand out and make an impact on users is a pressing demand. 
Since the pandemic, people are conducting more and more of their lives online, especially through the use of smartphones. The demand for mobile friendly web design that encourages a positive user experience is at the forefront of the industry. Based on the current statistics, web design could be the most important part of a business in today's modern digital world. 
How many people visit a website?
It's hard to say how many people, on average, visit a single website as many official visitor statistics are not publicly available. There are many software tools, however, which are used for website analytics. These are quite important for anyone developing a serious website, especially if it's business related. These analytics enable developers to know not only the number of visitors but to detect patterns between visitors which enables them to improve both content and design. 
What makes a good web design?
There are more and more principles of a good web design, but these seem to be the staples:
Simplicity: both text and imagery have to communicate the core message of the website upon the very first impression. That's the best way to ensure a user will stay on the website. 

Navigation: website functionality might not be a factor in the first impression, but it's highly important if you want users to stay on the page and keep coming back. This is especially true for websites dealing with e-commerce. 

Mobile friendly: websites which are not mobile-friendly are quickly becoming irrelevant to the modern consumer. 
Is Web Design in demand?
Yes, web designers are in very high demand. Even before the pandemic in 2020, it was quite clear that the future of almost all businesses will depend on web development. In the US, the average job growth rate is 4%, but the expected growth rate for web developers by 2029 is doubled, an incredible 8%! More and more people are choosing this career, even if they're already advanced in other areas of their professional life. 
What are good website statistics?
There are several ways to use statistics to see if your website is performing well, and one of the most important indicators is the percentage of returning visitors. Generally, if you have less than 30% of returning visitors, something is not working well. To have a good performing website, you should have an approximate return rate of 50%. 
How many web developers are there?
Web developing industry analysis shows that currently, there are about 23 million web developers in the world. Most web developers come from the US, but industry experts predict that by 2023, the majority of them will come from India. Over the next three years,  there will be between 27 and 28 million developers in the world, and as recent web design statistics showed, the industry is likely to continue to diversify as its importance keeps growing. 
Sources: